Advanced Yoga Practices (AYP) is a full-scope system of yoga, formulated by Yogani, a long-term yoga practitioner and author. Integrating asana (posture) practice with pranayama and meditation, AYP covers all of the eight limbs of yoga. The system includes practices that can be taken on by people who are new to yoga and takes people all the way through to gradually build up an advanced level yoga practice.
Although all of the practices used within the school are traditional yogic practices, AYP is quite revolutionary, in that all the practices are available on the internet. Traditionally these practices have been kept secret, only being passed down from teacher to student.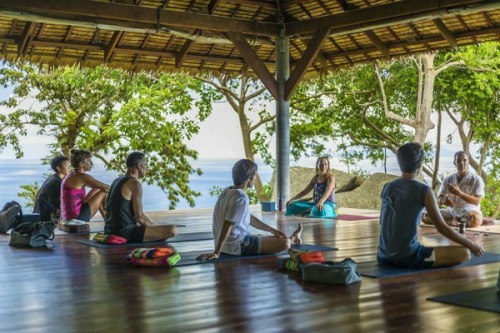 The purification of the body and mind at the subtle level, brings the practitioner into an ecstatic state of living. It also creates a sense of peace and bliss, which are the cornerstones for the realization of unity and divine love, the real fruits of yoga.
Many people ask if they are ready to take on a full-scope yoga practice. The truth is that anyone who feels ready and has the desire to take these practices on, can do so. The techniques are not difficult to learn, all we need is the desire and dedication to learn them and allow them to transform our lives.
All of the AYP practices are explained in detail in over 500 lessons on the AYP Public site. They are also available in book form. There are hundreds of additions to the main lessons which are available on the AYP Plus site.
The school runs around 20 retreats a year in different countries around the world. There is a support forum where you can get advice on your practices as you progress.
AYP is now a Registered Yoga Teacher Training School (RYS) with the Yoga Alliance. Teacher Training courses take place each year.